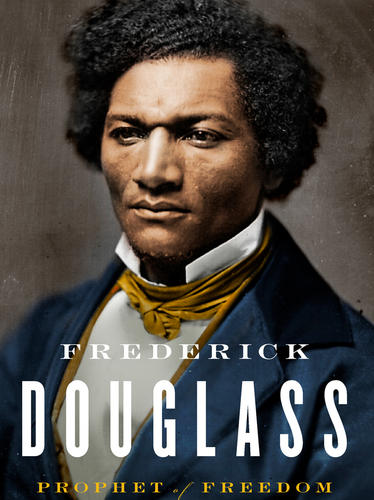 The Gilder Lehrman Center (GLC) for the Study of Slavery, Resistance, and Abolition at the Whitney and Betty MacMillan Center for International and Area Studies at Yale will host a book conversation between David W. Blight, GLC Director and Class of 1954 Professor of American History, and author Ta-Nehisi Coates. The program celebrates the release of Blight's new biography, "Frederick Douglass: Prophet of Freedom" (Simon and Schuster, 2018).
The talk is scheduled for Thursday, December 6, at the Yale University Art Gallery, Robert L. McNeil, Jr. Lecture Hall, 1111 Chapel Street, New Haven, Connecticut.
Book sales begin at 4:30pm and the talk begins at 5:00pm. Blight and Coates will discuss the book within the context of Frederick Douglass's development as a thinker, activist, and political figure. Courtesy of Atticus Bookstore and Café, books by both authors will be available for sale. Professor Blight will be available to sign books after the talk.
Blight's book is the definitive biography of the most important African-American of the nineteenth century: Frederick Douglass, who escaped from slavery to become the greatest orator of his day and one of the leading abolitionists and writers of the era. Annette Gordon-Reed, the Charles Warren Professor of American Legal History at Harvard Law School and Professor of History at Harvard University, describes the book as a "vibrant and convincing portrait of a towering figure who was also, as Blight says, 'thoroughly and beautifully human.'"
The writing of the book was prompted by Blight's lifetime interest in Douglass along with access to the private archives of Walter O. Evans. The materials in the Evans collection, Blight writes, allowed him to explore the "fascinating and complicated life" of the older Douglass, from the period of Reconstruction through his death in 1895. As the first in-depth biography of Douglass published since 1991, "Frederick Douglass: Prophet of Freedom" is "the fullest account ever written of the last third of Douglass's complex and epic life," Blight says.
Ta-Nehisi Coates is a distinguished writer in residence at New York University's Arthur L. Carter Journalism Institute. He is the author of the bestselling books "The Beautiful Struggle," "We Were Eight Years in Power," and "Between the World and Me," which won the National Book Award in 2015. Coates is the recipient of a MacArthur Fellowship. He is also the author of the Marvel Comics "The Black Panther" and "Captain America."
This program also celebrates the 20th anniversary of the founding of the Gilder Lehrman Center. The mission of the Gilder Lehrman Center is to explore the history and legacies of slavery across all borders and all times. The Center promotes scholarship and public education focused on the history and afterlives of chattel slavery in the Americas, global slavery, resistance to enslavement, abolitionist social movements, and modern slavery and human trafficking.