Posts Tagged Dorchester County
Byway Manager
Harriet Tubman Underground Railroad Byway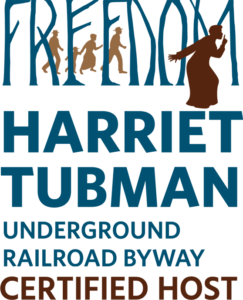 Job Description:
The Byway Manager is a grant funded position, administered by Dorchester County Tourism. The Byway Manager will work under the direction of the Dorchester County Tourism Director. This individual will serve as a grassroots organizer, project and grant manager, and contact person to implement the Corridor Management Plan and the Interpretive Plan for the 125-mile HTURR Byway through Caroline and Dorchester Counties, MD and to coordinate with Delaware, Pennsylvania, New York and ultimately Canada.
Primary management tasks include:
● Coordinate with partner organizations to begin planning for the Tubman 200th .
● Coordinate with byway leaders in Pennsylvania, New York and Canada to strengthen the byway through sharing best practices for product development in Maryland.
● Determine priority projects for the byway and pursue outside funding for implementation.
● Serve as the primary point of contact for information about the Byway, including but not limited to website and social media.
● Apply for project grants, maintain and prepare reports for grants and other funding sources.
● Encourage sound conservation and stewardship to ensure the essential long-term sustainability of the Byway.
● Assist in promoting volunteer led activities and events along the Byway.
● Assist in marketing the Byway in cooperation with partner organizations.
● Assist in organizing events and projects along the Byway, including serving as a liaison to the Harriet Tubman Visitor Center.
Minimum Qualifications:
Bachelor of Arts in Communication, Education, Museum Studies, Historic Preservation, History, Outdoor Recreation, Urban Planning, or a closely related field. Applicants should have at least 2 years of relevant work experience. Experience in grant writing, community organizing, small business development, project management, or developing and sustaining interpretive byway/trail systems is a plus.
Compensation:
50-week part-time position, with a maximum of 20 hours per week for the period of employment (one year). Year two may expand to full-time, pending grant funds. Mileage and travel expenses will be reimbursed through the departments operating expenses.
Dorchester County Gvmt seeking part time Byway Manager for the Harriet Tubman Byway. $22 per hour, no benefits. Coordinate with local and regional partners, grants and project management and marketing. BA in Communication, Education, Museum Studies or closing related field. 2 years of relevant work experience preferred.
Please submit a completed County application to HR, 501 Court Lane, Cambridge, MD 21613 by January 8, 2021 for best consideration. This position will remain open until filled.  
Application can be downloaded at www.dochestercountymd.com