jmullerwashingtonsyndicate
The hardest news from the hardest city.
In between the work of uplifting Douglassonian Studies and attempting to connect and build community I've prioritized addressing the identity theft of Umar Johnson, the pilfering peasant of Pan-Africanism.
Johnson must immediately cease and desist speaking the name of Douglass and Bailey out of his mouth. His lies have been aided by unknowing European Americans of the Eastern Shore who have assisted his treachery by sharing intimate local history, which is intimate Bailey family history.
My come up was along side old school librarians, back of the 70 bus griots of the Riots, Southside street corner historians and veteran editors of the Evening Star. I have standards to maintain with my research and writing. If it can't be proven or confirmed it is a lie.
Umar Johnson is a lie. Johnson's alarmingly false claims the "blood that ran in Frederick Douglass veins runs in my veins," has been used to defraud folks of reportedly hundreds of thousands of dollars.
A close examination of Johnson reveals that this dirty rotten scoundrel stumbled upon a couple history articles at the far reaches of the Internet and has recycled the information anew to fit his lies and distortions. The claims he has repeated I've found where he got them from.
Many of the facts Johnson found he has subsequently perverted. For example Frederick (Bailey) Douglass did NOT give Stephen Henry Bailey and his wife Caroline Wilson Bailey a Bible on their 50th wedding anniversary. One of Stephen and Caroline's sons offered the gift that would become a sacred family heirloom.
Furthermore, in reviewing a video of Johnson's disgraceful visit to a family cemetery in Denton, Maryland in Caroline County it is clear to the historic detective I was trained to be that something is not right.
It is telling how little the blowhard Johnson knows from the little research he has done, and who really makes video upon videos of bringing students to cemeteries to hear make-believe-lectures?
While Johnson looks at the grave for his imaginary family of Stephen Henry Bailey and George Washington Bailey, a local grocer, an older European gentleman tells Johnson a story that has been passed down in local history lore. Somehow it wasn't passed down to Johnson through his imaginary family.
At the 11:10 minute mark of the video the older European gentleman tells Johnson:
"George had a store in Denton that was burnt down."

Johnson: "See, I didn't know that. That's, that's that piece you gotta give me. See, I didn't know that."
Of course Johnson did NOT know that because he is NOT a Bailey. He is NOT in anyway a kinsman to Frederick (Bailey) Douglass, Stephen Henry Bailey or George Washington Bailey. All lies.
My mother has a family scroll. My father knows from where in Germany his folks came. I was told the oral history of my family since I was a little kid. I was raised to know it.
In conversations with authentic members of the Bailey Tribe the oral histories contained within the family pre-date the formation of this country.
As zealous and manic as Johnson is in holding steadfast in defense of his LIES that he is a kinsman and fake-descendant of Stephen Henry Bailey, the fact he does NOT know the oral tradition of his falsely self-clamed family and has to be told by someone outside of his family is very revealing.
This is circumstantial yet consequential evidence of the mighty fraud Johnson has perpetuated. Family historians understand what rings true and what does not.
I ask for your patience and indulgence as I gather all of my research and present my case to refute every single one of the LIES the pilfering peasant of Pan-Africanism has ever uttered about Dr. Douglass and his family and members of the Bailey Tribe.
John Muller
Author, Frederick Douglass in Washington, D.C.: The Lion of Anacostia
Co-Founder, W Street Douglassonians
Editor's Note:
Also, I just spoke to some extended family of my Uncle G's wive's family. Come to find out I am distant descendant — not by blood but way of my father's younger brother's wife — of one of the poor Irish kids in Fells Point whom Frederick Bailey enlisted as an impromptu back alley teacher. See, anybody can just make anything up.
I have attended many talks about Dr. Douglass over the years. Many are under-researched, under-cooked and/or underwhelming. However, there is hope. Prof. Lawrence Jackson at Johns Hopkins University has done some groundbreaking research on "Frederick Bailey in Baltimore."
At a recent talk in Baltimore a young Ranger from the Frederick Douglass National Historic Site discussed and addressed one of the most prevalent ongoing speculations that has hovered over the field of Douglass Studies for nearly two decades.
Ranger Brittany Hall said — to paraphrase using the words in which I received the message — that unless someone comes with some hard documentation and scholarship, the private life of Dr. Douglass is "without blemish."
I can't say it any better. If anyone, whether they be men who did their twenty years to return to 16th & W Street as self-studied Douglassonians or professors at Ivy League institutions, attempts to talk sideways about Dr. Douglass must be supported with proof at the ready. Otherwise all talk is unproven speculation.
Dr. Douglass's life is for the public to examine and discuss openly, however, his private life requires a level of understanding and scholarship very few historians outside of the Douglass family and Bailey Tribe possess.
Dr. Douglass was a private man who lived in the public arena. It is a contact sport today and back in Dr. Douglass' day branding, murder, lynchings, mental oppression was an every day thing.
Dr. Douglass does not need be unevenly exalted, worshiped or ennobled. But scholars will respect Dr. Douglass henceforth knowing that as I am concerned his private life and his marriages to Anna Murray and Helen Pitts is "without blemish."
On Sunday, March 18, 2018 in the year of the Frederick Douglass Bicentennial Mr. Tarence Bailey (US Army, Ret.), whose grandfather (5x) Perry Bailey was the older brother of Dr. Frederick (Bailey) Douglass and who passed in 1880 on Cedar Hill, walked the streets of Old Anacostia to connect with local inhabitants and indigenous Douglassonians.
It is not any man, or woman, person or group who can hold the time and attention of young men on the corners by chopping up the math and science of American and African history.
Mr. Bailey shared some of his experiences growing up in Easton in the 1980s and early 1990s when the area was faced with similar challenges that face Anacostia, as well as a tour he took of the Wye Plantation where ancestors of his Tribe are buried in an unmarked mass slave grave that has been maintained for longer than this country has existed. History is not something in a history book or biography to Mr. Bailey.
No firm plans were yet made to unite the two villages but it is known among tribal leaders of Old Ana the Eastern Shore mutually respects and welcomes W Street Douglassonians for a visit across the Bay to the native soil that birthed the Sage of Anacostia and America's Pharaoh, Frederick Augustus Washington Bailey.
Mr. Bailey shared some of the differences and similarities of Old Easton and Old Anacostia. His authority and ability to speak on history was respected and openly received. The history of the Bailey Tribe is the history of this country. The history of Mr. (Bailey) Douglass on Jefferson Street is the history of Old Ana. The history of Old Ana is the history of DC. The history of DC is the history of this country.
Young men at 16th & U and some of the older-younger guys at 16th & V spoke with Mr. Bailey and expressed mutual respect and admiration for the unique and sacred Douglassonian legacy the two communities have a shared responsibility to uphold and protect.
For the purposes of local lore and the year of the Bicentennial of Frederick Douglass' Birth it was a historic and important day for the neighborhood of Old Anacostia to host Mr. Bailey.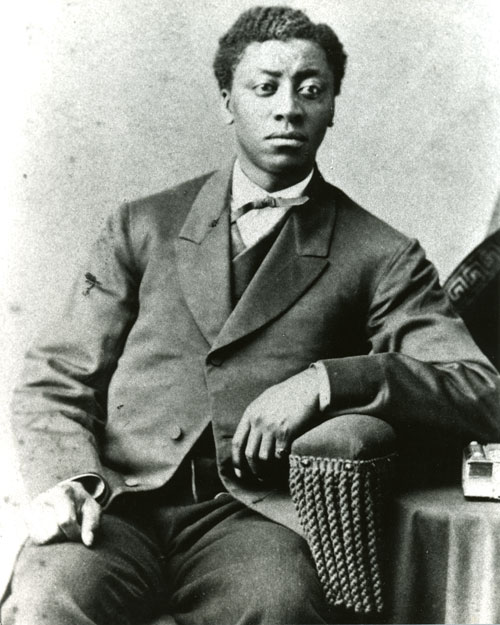 THE QUESTION OF COLOR.
INTERESTING CORRESPONDENCE.
Application for a Clerkship from Frederick Douglass, jr.
Yesterday Simon Wolf, esq., the newly appointed register of deeds, received the following letter from Frederick Douglass, jr., a brother of Mr. Douglass, at the Government office, (and not the "colored printer at the Government office," as erroneously stated in the Star of yesterday.) The letter will be read with interest at this time:
Washington, D.C., May 21, 1869.
Simon Wolf, esq., Register of Deeds:
DEAR SIR: I have the honor to request an appointment as clerk in the office of which you have the distinguished honor to be the head. I belong to that despised class which has not been known in the field of applicants for position under the Government heretofore. I served my country during the war, under the colors of Massachusetts, my own native State, and am the son of a man (Frederick Douglass) who was once held in a bondage protected by the laws of this nation; a nation, the perpetuity of which, with many others of my race, I struggled to maintain. I am by trade a printer, but in consequence of combinations entered into by printers' unions throughout the country, I am unable to obtain employment at it. I therefore hope that you will give this, my application, the most favorable consideration.
I have the honor to be, very respectfully, your obedient servant,
FREDERICK DOUGLASS, JR.
To this letter Register Wolf made the following reply:
RECORDER'S OFFICE
Washington, D.C., May 21, 1869.
Your application is before me, and has received favorable consideration. I see no reason in the world why you or your race should not have the full countenance in the struggle for progress and education, and I am particularly happy in being the means of encouraging you; for, as a descendant of a race equally maligned and prejudged, I have a feeling of common cause; and who can foresee but what the stone the builders reject may become the head stone of our political and social structure.
Very respectfully,
S. Wolf
—
SOURCE:
"The Question of Color," 22 May, 1869. The National Republican, 1.
NO CONNECTION TO DOUGLASS FAMILY and BAILEY TRIBE
While the family of Frederick Doulglass (Bailey) has spoken and made themselves abundantly clear Johnson is a "disgrace" and not a confirmed member of their Tribe, Douglass historians have remained on the sidelines. I was unaware of Johnson until the past year or so when I first caught some talk of his specious claims of being kin to Frederick Douglass.
Johnson's claim he is in anyway a distant relation of the Bailey Tribe, the ancestral peoples whose name is of an African genesis not comparable to the Danish, English, Scottish and Swedish origin of Johnson, is an astonishing falsehood, mired in historic distortions and untruths.
Lies in Roland Martin Interview 
Last summer Johnson was interviewed on Roland Martin's television and was asked about his connection to Douglass to which Johnson made the claim:
Show me where I ever said I was a descendant. I have only claimed one thing: kinsman.

How am I kinsman? If you ever read any of the autobiographies of Frederick Douglass he talks about growing up on Tuckahoe Creek with Cousin Stephen. Cousin Stephen is Stephen Bailey; Dr. Umar Johnson's four times great-grandfather whose grave I just visited last week. I go every year. That's my four-times great grandfather.
A close reading of more than 1,200 pages of autobiographical writing by Frederick Douglass reveals a solitary reference to a "Cousin Steve" in My Bondage and My Freedom.
A lone reference confirms not the lies Johnson has made. The entire premise of his claim is false. Johnson's entire story is a fraud which I will detail in forthcoming posts.
In the 1845 Narrative there is no reference to any "Steve," "Steven," or "Stephen," as in Stephen Henry Bailey.
In the 1881 version of Life and Times there are nine references to "Stephen" with two of these being concerned with radical abolitionist "Stephen S. Foster," and four references to "Stephen A. Douglas," an influential Illinois politician. The other three references are non-family references. There is no reference to Stephen Henry Bailey.
Pilfering Peasant of Pan-Africanism
It has recently been brought to my attention a deceitful and disgraceful excuse for a man has been profiteering and thieving with the self-assertion of a fictitious familial connection to Frederick Douglass and the proud yet private Bailey Tribe of Maryland's Eastern Shore.
Umar Johnson is an elusive embezzler. It is my understanding he has elicited hundreds of thousands of dollars on an imaginary and undocumented promise of opening a school bearing the name of Frederick Douglass and Marcus Garvey.
Dr. Frederick Augustus Washington Bailey Douglasss, a native son of Talbot County on Maryland's Eastern Shore and the cobblestone streets and docks of Baltimore's Fells Point, is one of the greatest Americans to ever live.
The Lion of Anacostia has had a palpable resonating spirit walking alongside the community which for more than a century after his departure from a world that knew his name from one end to the other has looked out for and kept alive the memory of their local friend.
Umar Johnson's association with Dr. Douglass and Marcus Garvey has apparently assisted him in deceiving the weakest-minded brothers and sisters of our communities. The young know no better, however his adults followers are comforted by knowing there is someone who may be dumber and more duplicitous than them in this world.
I came up in Old Anacostia with William Alston-El, a legend in three games. Running partner of Ralph Magruder, Dr. John Kinard and an entire lost generation of Washingtonians born in the segregated mud of South Washington, William is a proud Moorish American, the original disciples of Garveyism.
The work of uplifting fallen humanity and organically strengthening communities from within is not the mission of Umar Johnson. His jibber-jabber is simply about exploitation, deception and confrontation. He does not have his own manhood so he has tried to maintain a fictitious claim to another family that does not know nor want anythimg to do with him.
Umar Johnson is a disgrace to whomever his real family is.
Umar Johnson is lost. Those who follow him are double lost.
Umar Johnson is a disgrace to everything seen and unseen. All knowing know he is a complete liar. Anyone who continues to support him and listen to him is an equal disgrace to everything seen and unseen, heard and unheard, known and unknown.
Johnson has supported his libelous and slanderous remarks about members of the Douglass family and Bailey Tribe with dishonorable desecration of sacred landmarks.
Umar, the peasant of Pan Africanism, has secretly visited a number of sites related to Frederick Douglass over the last couple of years. In a recent canvass of the Eastern Shore it was communicated to me that if Johnson makes a live video from any site he does so at his own potential peril. Warnings to discontinue his treasonous usage of the family name have been advanced through formal and informal channels.
The lies and disrespect have persisted.
Umar Johnson has stolen hundreds of thousands of dollars from susceptible souls lost in the sauce of the cause of the half-witted, graceless and uncoordinated small-time peddlers of some pseudo-faux-Pan-Africanist movement.
Umar Johnson has it so twisted and tangled he thinks he can pour bottled water on the grave of Harriet Tubman and not have spirits of runaway slaves after him. Some may get by but they never get away.
Umar Johnson is the spirit of the slave that snitched on Frederick Bailey when he organized his first escape.
I am just getting started.
To be continued.
A founder in his childhood of Grahams Alley Douglassonians out of Easton, Maryland in Talbot County, Maryland, Tarence Bailey (US Army, Ret.) accepting a proclamation from the town commission of St. Michaels, Maryland.
Taking a brief travel through Old Easton I must share there's a feeling in the air similar to Old Anacostia.
Hope we can bring closer connection between the two respective communities of indigenous Douglassonians in coming months and throughout 2018.
THE TWO DROMIOS.
Frederick Douglass and Theodore Tilton in Paris.
London Letter.
Fred. Douglass and his wife have been in Paris this winter – for that matter may be there still – and have received much polite attention from a section of the American colony there. Douglass and Theodore Tilton had been friends in the old days and naturally they went about a good deal together now that they were met again. The two heavy, large-featured, distinguished looking men with the massive heads of white hair, attracted very general notice on the boulevards.
One day the[y] dined together at a restaurant and talked together for a long time. A Frenchmen sat near and watched them alternatively. A day or two afterward Mr. Tilton came alone to this cafe. The Frenchman, after some hesitation, approached him and politely asked permission to put a question.
Mr. Tilton said, "Certainly, if you will speak slowly, for my French is still very imperfect."
Then the stranger said: "When I saw you and your brother together here, although I could, of course, understand nothing that you said, I made up my mind, from the refined modulation of your voices, that you must both be orators. I should like to ask if in England it is usual to have two brothers so equally gifted and experienced in public speaking."
Mr. Tilton is passing now, he tells his friends, the most peaceful and contented years of his life. It is three years since he domiciled himself in Paris, and he will probably end his days there. He has a floor in a grand old mansion, once the home of Duce de Nemours, an ancient building on the Ile de Paris, back of Notre Dame, in the very heart of historic associations.
Here he spends much of his time writing, reading, living happily within himself. For the rest, he is free to dine wherever his fragrant fancy dictates, to find companionship wherever he chooses. Most often he is to be met late afternoons at the Cafe Regence, one of the famous pre-revolution resorts which the Haussmannization of the right bank of the Siene has left intact. Here for a century or more have the best chess player of Paris assembled.
Alfred de Musset was a habitue, and many of the older men remember him well. A far more distinguished frequenter of the Regence – whom few enough of the company can recall having seen even in his later life – was a certain keen-eyed aquiline-nosed young lieutenant of artillery, M Napoleon Bonaparte.
A little metal tablet is set into the dark marble of one of the tables recording that here the future Emperor was wont to sit and school his mind for Marengo and Austerlitz in the mazes of chess. I fancy that no dreams of fame or of especial achievement come now to Mr. Tilton.
The work upon which he is engaged is understood to be ephemeral in character – done as much for the sake of occupation and mental relief as anything else. His chief interest is to like his life and keep it smooth, uneventful, restful, within the compass of simple desires and pleasant associations.