jmullerwashingtonsyndicate
The hardest news from the hardest city.
Internationally known, in life and afterlife, on both sides of the Atlantic Ocean as an author, orator, abolitionist, suffragist and American reformist, the history and placement of Frederick Douglass in the growing academic field of Appalachian Studies has not been considered and recognized until now.
Following the Civil War, Frederick Douglass made more than a half-dozen visits across West Virginia from the Eastern Panhandle to the Northern Panhandle to the Kanawha River Valley, including speaking in the communities of Harpers Ferry in Jefferson County; Martinsburg in Berkeley County; Wheeling in Ohio County; and Parkersburg in Wood County. During these travels throughout the Mountain State, Douglass was hosted by and spoke alongside newspaper publishers and editors, politicians who led the way to legislatively creating West Virginia and leaders within local Black communities from journalists to college faculty to clergy.
Learn about the lost history of Frederick Douglass as a trustee of Storer College, West Virginia's first Historically Black College & University, traveler on local railroads, keynote speaker at emancipation celebrations and as an associate of notable West Virginians Governor Arthur Boreman, J. R. Clifford (West Virginia's first Black attorney), Archibald W. Campbell (a leader in West Virginia's statehood) and others at this groundbreaking presentation by Douglassonian scholars John Muller and Justin McNeil of Lost History Associates from Washington, D.C., just down the Potomac River.
"The Lost History of Frederick Douglass in the Mountain State" will be publicly presented for the first time at WVU Potomac State College. The evening's talk, followed by a Q&A, will include maps, prints, letters, newspapers, photographs and more to provide a visual telling of the expansive history of Frederick Douglass in West Virginia and his connections to the mountain state.
—
*Featured Presenters*
John Muller, author of Frederick Douglass in Washington, D.C.: The Lion of Anacostia (2012) and Mark Twain in Washington, D.C.: The Adventures of a Capital Correspondent (2013), has presented widely throughout the DC-Baltimore metropolitan area at venues including the Library of Congress, Politics and Prose Bookstore, Newseum, American Library in Paris, Enoch Pratt Library, DC Public Library, Frederick Douglass National Historic Site and local universities. Muller is a frequent guest on Washington, D.C. radio stations and has been cited by the Washington Post, Washington City Paper, Cumberland Times-News and other publications for his local history research and subject matter expertise. He has been featured on C-SPAN's BookTV and C-SPAN's American History TV, broadcast airwaves of NBC4 (Washington), WDVM (Hagerstown) and radio stations WPFW (DC), WAMU (DC), WYPR (Baltimore), WEAA (Baltimore) and Delmarva Public Radio (Eastern Shore). For the past decade Muller has contributed hundreds of articles to local and national print and online news sources, including the Washington Informer. In 2019 Muller presented on the history of Frederick Douglass throughout Western Maryland, including the Washington County Free Library and Frostburg State University.
Justin McNeil, an IT professional who has serviced government agencies, nonprofits, corporations, financial and banking institutions and small-businesses within the DC-Baltimore metropolitan area, Western Maryland and Potomac Highlands for the last decade, is a doting husband and father of 3, ADOS historian, essayist and playwright. McNeil has been featured in the pages of the Washington Post, contributed columns to the Washington Informer and been interviewed on News Channel 8 (Washington, D.C.), WBAL (Baltimore) and WPFW (Washington), WEAA (Baltimore) and ABC 47 (Maryland's Eastern Shore). McNeil attended Morehouse College in Atlanta, Georgia.
Muller and McNeil are co-founders of Lost History Associates and are at work on forthcoming publications on Frederick Douglass in several specific regions in the Mid-Atlantic area.
For more information on Lost History Associates, visit: www.losthistoryusa.com
—
Potomac State College is a public college in Keyser, W.Va. and is part of the West Virginia University system, offering associate and bachelor's degrees. It is located approximately 90 miles east of the University's main campus in Morgantown, W.Va.
Professor Caitlin Hudgins, Ph.D. is an English instructor and serves as director of the Writing Center at Potomac State. Her American Literature class is currently reading the autobiographical writings of Frederick Douglass.
For more information about WVU Potomac State College, visit https://www.potomacstatecollege.edu/.
Directions to Potomac State College can be found at the following link: https://www.potomacstatecollege.edu/about/directions-to-wvu-potomac-state-college.
Once on campus, there will be a parking lot immediately to the left. The Davis Conference Center is the first building on the right. There is also parking along campus drive on the right.
---
RSVP -> https://tinyurl.com/FDinWestVA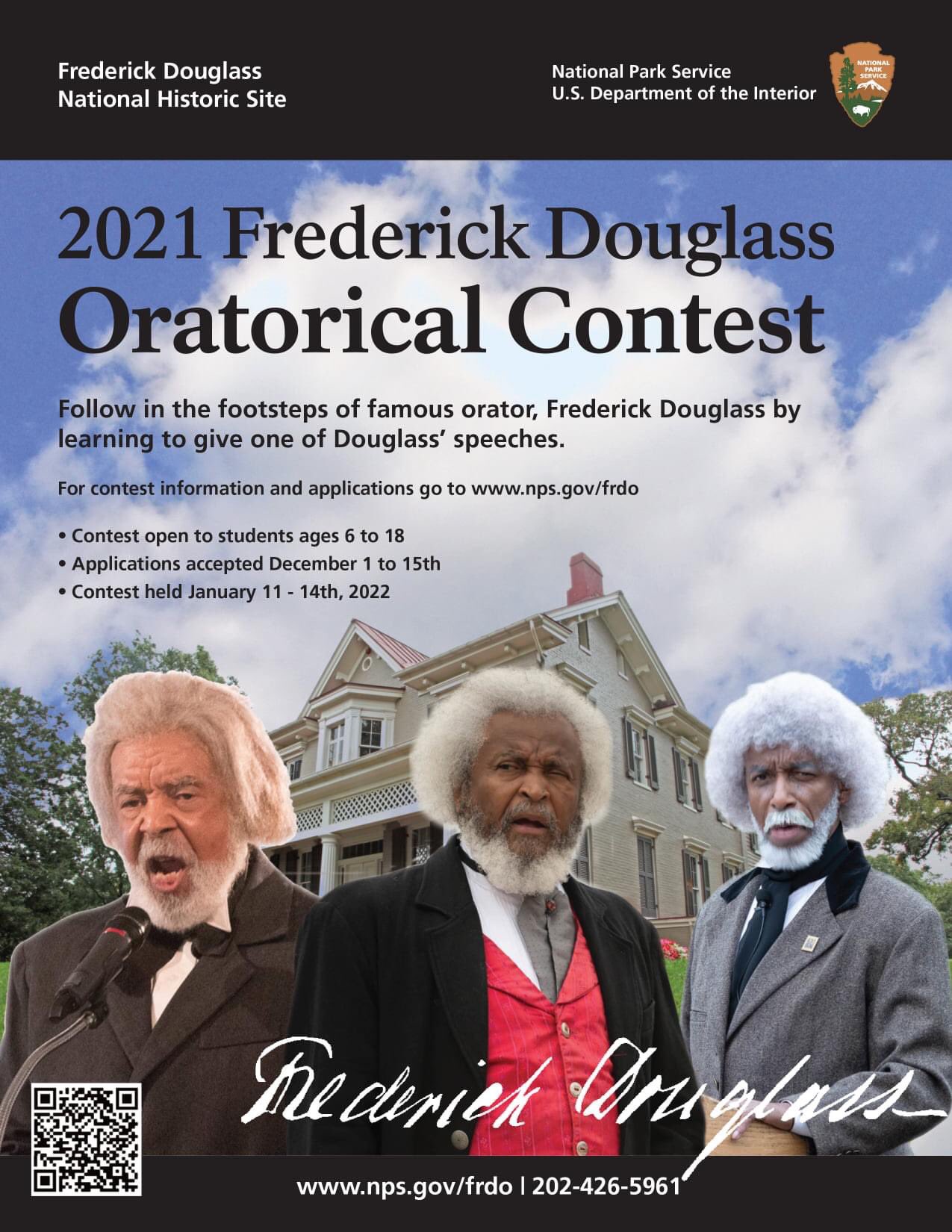 ---
Annually, the Frederick Douglass National Historic Site hosts a live oratorical contest at the site where students perform a part of a Frederick Douglass speech that they learn from memory from the stage in the park's auditorium. This year since younger students have not been able to be vaccinated, we will host the contest online over a format such as Zoom or Microsoft Teams.
The contest will be held January 11-14, 2022 and there will be morning and afternoon sessions.
The Frederick Douglass Memorial and Historical Association and the Frederick Douglass Housing Corporation generously donate contest prizes each year (prizes TBD). Winners also receive plaques and will have the opportunity to perform at the Douglass Birthday Celebration on February 12, and/or to have their performance recorded so the video can be part of programs the park is offering for Women's History Month, Decoration Day (now Memorial Day), and Black History Month in Ireland (October).
Click here to view guidelines for the 2021 Oratorical Contest
Continuing their wonderful series, Baltimore Heritage recently posted a video from old Strawberry Alley focusing on its more recent connection to real estate developer and investor Frederick Douglass.
---
NOTE: If interested in checking out Douglass Place on an upcoming walking tour check for dates *HERE*
On a recent walking tour I shared some brief insights into the humorous disposition of Frederick Douglass and his fondness to make jokes in public and private settings. On this blog, on occasion over the years, we have shared examples of the humor of Douglass that can be found in his speeches, writings, official government records and newspaper reports.
As cited in a 2003 journal article, "'He Made Us Laugh Some:' Frederick Douglass's Humor," in Life and Times Douglass wrote, "I have been greatly helped to bear up under unfriendly conditions, too, by a constitutional tendency to see the funny sides of things, which has enabled me to laugh at follies that others would soberly resent."
The account below demonstrates one of the incidents where Douglass could enjoy a joke.
---
The Dark Horse.
From the Cincinnati Times-Star.
Frederick Douglass often laughed over a witticism of Mrs. Fred Grant's at his expense, when they met at the Chicago convention of 1888. "I was sitting with Mrs. Grant and her party watching the balloting," said he to a friend. "To my surprise, one vote was cast for me for President of the United States. It had no sooner been announced by the tellers than Mrs. Grant turned to me, and, with the most charming smile imaginable, said: "You must be the dark horse of this convention, Mr. Douglass."
---
Meet outside the Library of Congress to learn more about the history of Frederick Douglass and the Capitol Hill neighborhood from the era of the Civil War to the administration of Gilded Age presidents.
Learn about Frederick Douglass as a Washington City editor and correspondent of the New National Era, his relationships with Senators, Congressmen, Supreme Court Justices, diplomats, generals and suffragists and his admiration of William Shakespeare.
Tour will begin outside the Jefferson Building of the Library of Congress, visit places of interest including the Capitol Hill home of Frederick Douglass and end in Lincoln Park where in 1876 Douglass delivered a memorable address at the unveiling of the Freedman's Memorial to Abraham Lincoln, which remains today.
Questions and photography are encouraged throughout the walking tour!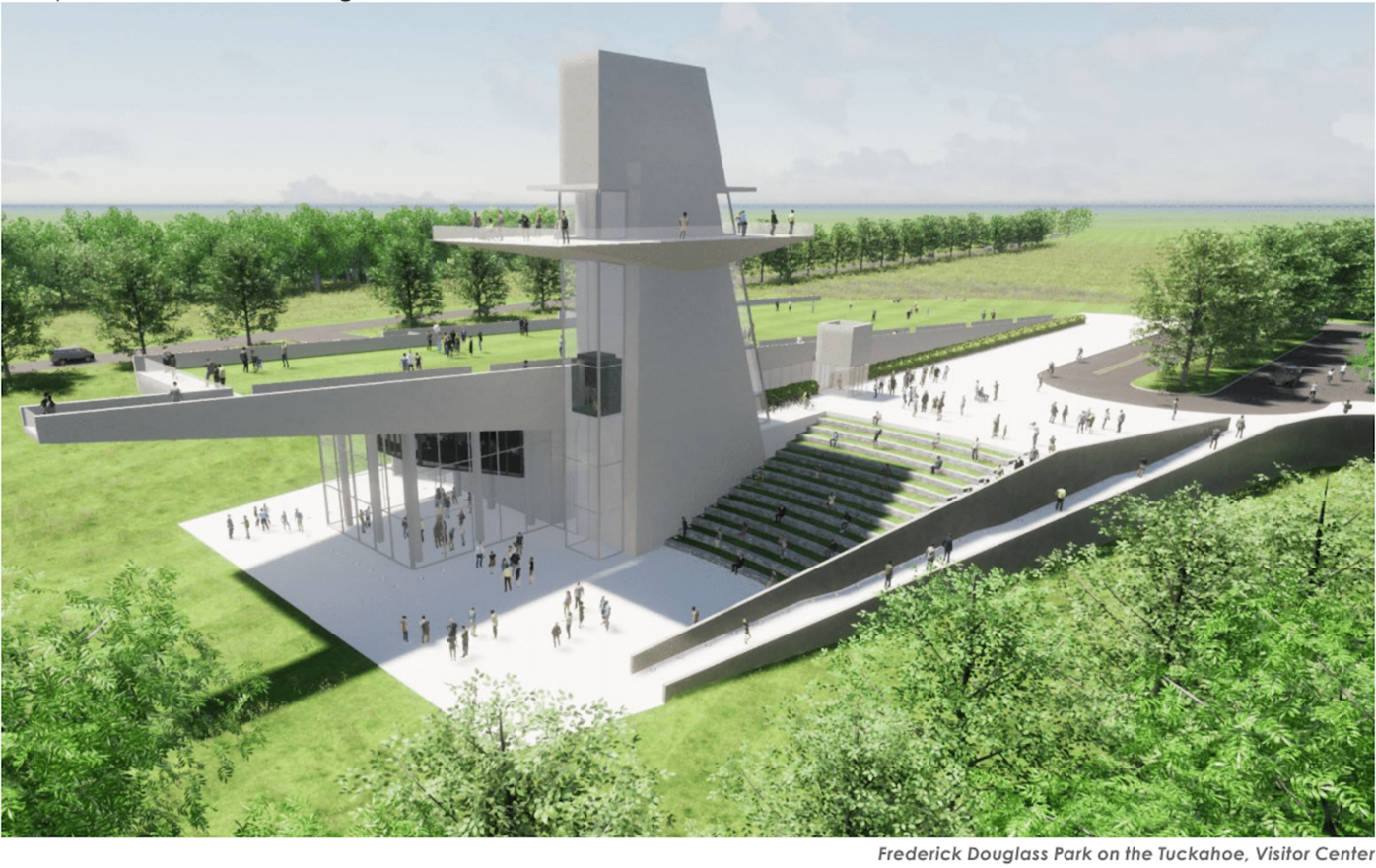 EASTON — Architects unveiled the master plan for the Frederick Douglass Park on the Tuckahoe, presenting a grand vision of a towering visitor center, a memorial space, an overlook on the Tuckahoe Creek, meadowland, trails and kayak ramps — all spread across the entire 107-acre parkland.
LSG Landscape Architecture and Michael Marshall Design presented a draft of the master plan to the Talbot County Council on Sept. 14, pulling back the curtains on an initial layout of the park — which could cost $37.5 million to build — that will draw international attention and potentially become the county's biggest tourism boom.
Cassandra Vanhooser, the director of economic development and tourism for the county, said the master plan realizes the dreams she first had for the project when she started it in 2018.
"When we hired this team, we said, 'Here is a piece of property we would like to develop in honor of Frederick Douglass. It's a blank canvas, there's nothing there,'" she said. "From day one, we had a big dream for what could happen there, and I would say they met and exceeded my expectations. It's a vision for what could be, and it gives us sort of a roadmap to getting there."
Relatives of Douglass also applauded the master plan, noting it pays tribute to the famous abolitionist who was born on the parkland near the Tuckahoe Creek more than 200 years ago.
"It's important for all of us to recognize and understand Frederick Douglass is one of our country's greatest heroes," said Kenneth Morris Jr, a descendant of Douglass. "To know he was born here on the Eastern Shore — and (have) the opportunity to recognize him with a beautiful visitor center and park — is the opportunity to bring tourism from all over the world."
In the master plan, guests arriving at the park from Lewistown Road are greeted by a 20-acre field and meadowland, and make their way to a parking lot and a large visitor center — a 25,000 square foot, futuristic-looking facility overlooking the entire parkland.
The visitor center will act as a museum site. Inside the building, past the initial lobby, are offices for administrative and research departments, but also an auditorium, a study room and exhibit spaces featuring information about Douglass' life. Atop the structure will be a viewing deck with a 360 degree view of the park.
Outside the visitor center is also a large amphitheater, while a memorial will be built across from the building. The memorial will host large marble slabs featuring quotes from Douglass along with his engraved image.
Michael Marshall, the lead designer, said the visitor center and memorial site are crucial to the overall park experience.
"This area shaped (Douglass') thinking and his survival," said Marshall. "We wanted some place really special to be expressed in the visitor center and the memorial aspect."
Marshall also created enough of an open atmosphere for nature observance, much of which has stayed unchanged since Douglass' time. Meadowland dots much of the park space, while the park will also host trails, a boardwalk near the Tuckahoe Creek, lookout points and launch points for small watercraft.
Each component is an integral part of the overall vision for the park. The inclusion of a large visitor center, along with nature, trail and water access, creates a hybrid design, which will offer a comprehensive experience — and one that will attract visitors from around the world, said Marshall.
"We're trying to combine those into a hybrid experience of coming to this site, so they can come here and canoe or appreciate the environment as it is now and the wilderness of it," he added.
The project could be scaled up or down, according to the designers. Preston Peper, the director of the Department of Parks and Recreation, said they wanted the designers to start big, and work from there.
"We told them to shoot for the stars," he said, adding he was impressed. "As far as the visitor center itself goes, I think that's more than anybody on this committee was envisioning."
The Frederick Douglass Park on the Tuckahoe was first established in 2018, and is actually now open to the public. But a 14-member advisory committee, made up of county officials as well as relatives and scholars of Frederick Douglass, have been working to fully develop the parkland since its grand opening.
The committee held a hearing last October at the park, and opened up public comments for much of the time following that meeting (the committee is still encouraging public comment as the master plan is still a draft).
The release of the master plan is the culmination of a years-long efforts to create a blueprint for the parkland. Corey Pack, a county councilman who also sits on the committee, said the master plan presents a bold vision but one worthy of Douglass.
"Remember who you are honoring. We have to think big. If we have to go smaller then we will, but we want to make sure this center pays tribute to this man in a respectable way," he said. "This will be an international destination. So when they come, they need to see something worthy of their time and respect."
Pack plans to introduce a resolution that will form another committee, dubbed Friends of Frederick Douglass Park, that will continue to tweak the master plan, as well as fundraise.
The committee will look at state and federal grants, as well as some local dollars. Most of the money will come from corporate sponsorships and organizational partners who want to invest in a park that will one day attract international visitors. There are no interested partners as of yet.
The project will be built out in phases, with the memorial site, the Tuckahoe Creek overlook, and the pollinator meadows planned to be built out in the first phase, likely within two or three years. A second phase will include trails and small outdoor structures for the public to use, as well as more interpretive panels.
The visitor center is part of the final phase, and could take as long as a decade to construct. It's estimated to cost $1,500 per square foot.
While Douglass is commemorated across the country, The Frederick Douglass Park on the Tuckahoe will be the first of its kind on this scale.
It will also connect to other historic sites commemorating Douglass, including smaller ones on the Eastern Shore and others in Annapolis, Baltimore and Washington, D.C., where Douglass lived out the latter years of his life at Cedar Hill.
The park will tell a structured narrative about Douglass and his relation to the Tuckahoe and the surrounding community.
The narrative presented in the interpretive plan is still open for discussion according to county officials, but it will tell the story of Douglass through the natural setting of the park, as well as panels and exhibits with detailed information.
The big theme in the interpretive plan: "During Douglass' formative years, the people, experiences, and unique landscape of the interconnected Tuckahoe community in Talbot County helped to shape his world views and and ignited his lifelong quest for justice."
Douglass was born into slavery as Frederick Augustus Washington Bailey. He was raised by his grandmother, Betsey Bailey, who served on a large plantation called Holme Hill, owned by Edward Lloyd V in the Tuckahoe and Wye Mills region.
While his family was not free, around Tuckahoe there was a free community of African Americans that Douglass engaged with.
John Muller, a Douglass historian, said he wants the park to focus its storytelling not only on the natural environment and slavery aspect, but also the free community he was surrounded by, which included African American Methodists and Revolutionary War veterans.
"The focus on natural, archaeological resources are wonderful, but it doesn't appear from the plan that there is a motivation and desire to tell a compelling story that would include the growth of methodism and how that impacted Bailey's rearing in Tuckahoe region," he said, "and the impact of the free black community in and around the Tuckahoe."
Vanhooser said much is still up in the air regarding how the story will be told, and that the county "invites public input in every step of the process."
For relatives of Douglass, whose lineage continues today, the park has a very personal impact. Tarance Bailey Sr., the five times great nephew of Douglass, recently spearheaded an effort to erect a mural commemorating Douglass' life in Easton. The groundbreaking ceremony for the mural was held on Sept. 4.
With the mural and the Frederick Douglass Park on the Tuckahoe, Bailey said the connections of his ancestor's roots on The Shore are finally being realized. He wants the park to remain in keeping with the master plan's ambitious vision.
"This will be the biggest attraction (for Douglass) on the lower East Coast," he said. "I think it should be something that Uncle Frederick would be proud of — he had grandiose tastes."
Bailey wants Douglass' story on the Tuckahoe to be told well and comprehensively, too. "You can put up a pretty building, but once you go in there it has to impress, it has to teach and it has to inspire," he added.
---