jmullerwashingtonsyndicate
The hardest news from the hardest city.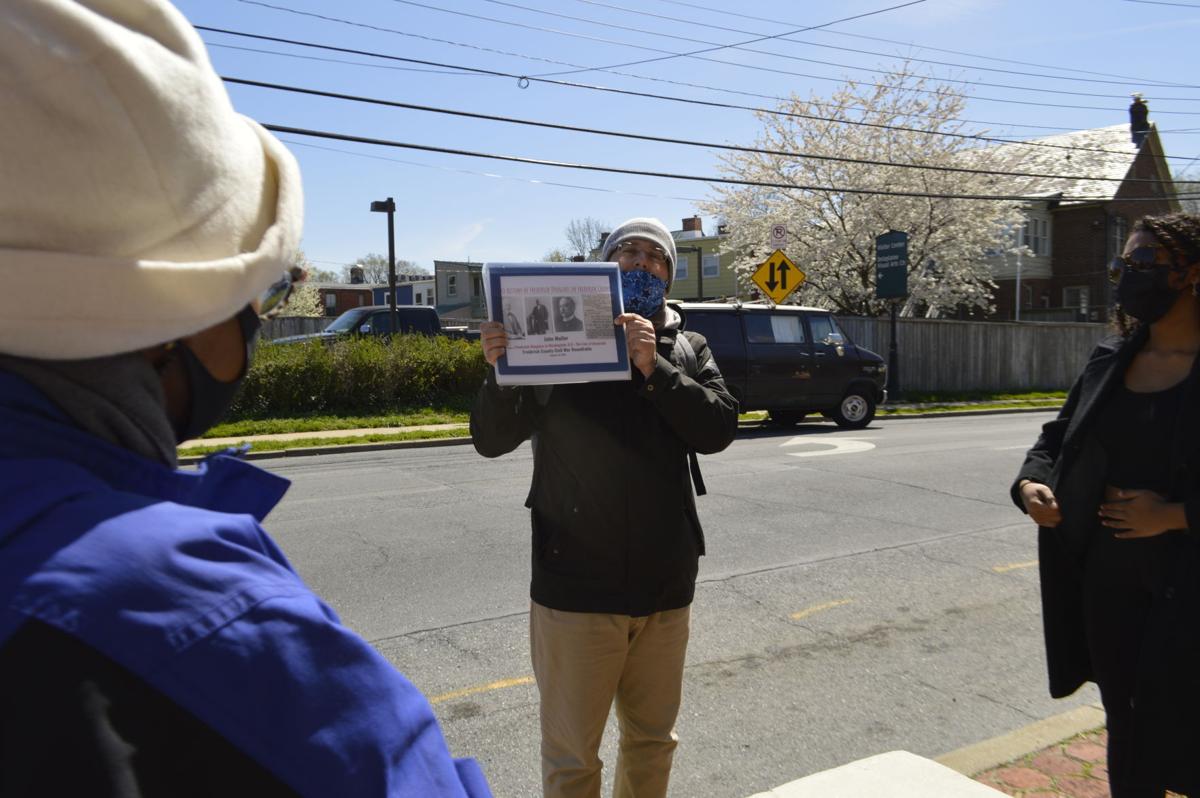 ---
Attendees of a historic walking tour in Frederick Saturday had the opportunity to learn about Frederick in Frederick.
Frederick Douglass in the city of Frederick, that is.
John Muller, an author, speaker and historian, led the tour. His book, "Frederick Douglass in Washington, D.C.: The Lion of Anacostia," was published in 2012, and as a result of the continuous research on Douglass in D.C., he has offered walking tours on the Eastern Shore, Baltimore and throughout Washington D.C., as well as Frederick and western Maryland locations.
Douglass visited Frederick in April 1879, where he spoke in present day Brewer's Alley and gave a lecture to benefit what is today Quinn Chapel African Methodist Episcopal Church.
"Frederick City is an important component of Frederick Douglass' activism within the state of Maryland," Muller said. "So this is just an opportunity to connect with the local community to kind of discuss and further the local history. And it's really part of kind an ongoing process to uplift an awareness and recognition of Frederick Douglass throughout the state."
The tour, entitled "Lost History Walking Tour: Marshal Frederick Douglass & Frederick City," began on South Bentz Street at the Roger B. Taney House and was set to wrap up at the Quinn Chapel African Methodist Episcopal Church. It lasts about two hours.
Douglass, who was born in 1818 and escaped from slavery in 1838, was a human rights leader, abolitionist and the first Black citizen to hold high rank in the U.S. government.
Muller has been leading walking tours since about 2013, starting the program mainly in Washington and Baltimore. This is now the sixth or seventh time he's offered the tour in Frederick, where he's been leading them since 2019, he said.
"I've been in touch with different community organizations and leaders within Frederick and have done some research at the Maryland Room at the C. Burr Artz Library … so just kind of been a continuing, ongoing process to become more familiar with the community," he said.
Muller said he generally has a good response to the tour.
"The tour's conversational, so I try to ask people where they're from and then maybe make my talking points specific to where they're from," he said. "And people are always very interested to learn that there is history in Frederick that is kind of beyond the scope of the Civil War, because the Civil War thematically is so heavy, and this is more kind of Reconstruction."
When Douglass spoke in Frederick, the tour leader noted, he was on stage with Frederick native Dr. Lewis Henry Steiner, who, following the Civil War, advocated for schools for Black Americans and later was the lead librarian of the Enoch Pratt Free Library in Baltimore.
"[The tour] is integral to the history of the city in terms of the religious networks, the African Methodist networks that are essentially expanding westward from Baltimore City, and many of these connections that Frederick Douglass had with Baltimore, these gentlemen come out to western Maryland," Muller said. "It's kind of trying to put the pieces of the puzzle of a larger Black history in the state of Maryland and connecting Frederick not just hyper-local Frederick, but Frederick in the context of the state history."
Mykáh Frazier and her mom, Marlo Frazier, attended the walk together. The two are from South Carolina and are visiting the D.C. area.
"Most of the museums [in D.C.] are closed and so I was like, 'Well, I want to do something history related.' I like history, and I was going through events in the area and I saw that there was a Frederick Douglass walking tour, some lost history," Mykáh Frazier said.
A political science major, Frazier was drawn to the tour and said she was looking forward to seeing the actual landmarks and having a good visualization of those landmarks.
While the tour provides a wealth of information, Muller said he hopes one thing people gain is the knowledge that as the tour processes down Market Street and 3rd Street, they're following in the footsteps of many famous Marylanders, Douglass included.
Muller noted that the institution that Douglass spoke to benefit, Quinn Chapel AME Church, is still an active and integral part of the community.
"That history connects from today back to 1879," he said.
---
Frederick News-Post link *HERE*
follow Hannah Himes on twitter -> @hannah_himes
---
Lost History Associates, in partnership with the Greensboro Historical Society, present, "From the Choptank to Washington City: The Lost History of Caroline County's First Graduate of Howard University"
---
Friday, April 9, 2021 l 6:30 PM – 8:00 PM 
Greensboro Historical Society 
104 East Sunset Avenue
Greensboro, Maryland 21639
---
Established in the nation's capital in 1867, Howard University was founded as an integrated and co-ed institution of higher learning supported by Tuckahoe native Frederick (Bailey) Douglass, who served on the Board of Trustees from 1871 until his passing in 1895. During his quarter-century of service to the university, Douglass welcomed and supported students from all over the country, including those from familiar families of his native Eastern Shore.
Join the Greensboro Historical Society for a groundbreaking presentation and discussion on the ongoing research into the life and times of Greensboro native Dennis F. Groce (Class of 1889), Caroline County's first graduate of Howard University in Washington, D.C., 
Question and answer will follow the presentation. 
---
** Featured Presenters **
John Muller, author of Frederick Douglass in Washington, D.C.: The Lion of Anacostia (2012) and Mark Twain in Washington, D.C.: The Adventures of a Capital Correspondent (2013), has presented widely throughout the DC-Baltimore metropolitan area and Eastern Shore. Muller has been featured on C-SPAN's BookTV and C-SPAN's American History TV, in the pages of the Washington Post and Star Democrat, airwaves of NBC4 (Washington) and WBAL (Baltimore) and radio stations WPFW (Washington), WAMU (Washington), WYPR (Baltimore), WEAA (Baltimore) and Delmarva Public Radio (Eastern Shore). For the past decade Muller has contributed hundreds of articles to local and national print and online news sources, including the Washington Informer. Muller is a co-founder of Lost History Associates. 
Justin McNeil, an IT professional who has serviced government agencies, nonprofits, corporations and small-businesses within the DC-Baltimore metropolitan areas and Delmarva Peninsula for the last decade, is a doting husband and father of 3, street historian, essayist, and playwright. McNeil has been featured in the pages of the Washington Post, contributed columns to the Washington Informer and been interviewed on News Channel 8 (Washington), WBAL (Baltimore) and WPFW (Washington) and WEAA (Baltimore). McNeil attended Morehouse College in Atlanta, Georgia and is a co-founder of Lost History Associates. 
For more information on Lost History Associates visit www.losthistoryusa.com 
---
Note on Reservations and the Greensboro Historical Society 
Attendance and/or reservations are limited to 30 attendees. Seating will be accommodated on a first-come, first-serve basis. 
To reserve a ticket please contact Mr. Chad Dean, via email charlesdean3vzw@gmail.com, or Mary Riddleberger, via phone (410) 482-8903.
There will be a minimal charge at the door and/or suggested donation to support ongoing programs and operations of the Greensboro Historical Society. 
For more information about the Greensboro Historical Society visit and "Like" their Facebook page: www.facebook.com/GreensboroHistoricalSociety. 
---
In this presentation, Professor Frederick Knight (Morehouse College) uses generation as a category of analysis to interpret early African-American history. He shows how age was tied to labor and production in the early African-American experience; how elders shaped early African-American culture; how tensions, conflicts, and bridges arose between different generations of African-Americans; and how people used age to advance particular interests. Drawing on written, visual, and audio materials from a wide range of sources, Professor Knight argues that age mattered to black people in early America.
---
Editor's Note:
Frederick (Bailey) Douglass was raised, encouraged and mentored by elders. Throughout his public and private life he recognized these elders within his family and his community.
If you can hear me, clap once. If you can hear me, clap twice.
If you understand the depth of this lost history clap thrice.
In honor of Women's History Month we take a moment or two to recognize the radical, fearless and tireless educators that worked alongside and within the reformist networks and circles of influence from the bottom of the map to up top.
More than two years ago we told you about Rev. Henry Augustus Monroe, a member of the drum corps of the 54th Massachusetts Volunteer Infantry Regiment who after the War deployed as a teenager to the Potatoe Neck of Somerset County to teach school with the Freedmen's Bureau.
Today, we share with you an associate of Rev. Monroe's who similarly came from up top in New England to work below the Mason Dixon Line for the educational and civic improvement of descendant communities throughout the state of Maryland.
Leading Freedmen Bureau affiliated classrooms and school houses in Harford, Kent and Howard counties, Principal Ida Marshal has apparently been overlooked and unrecognized by various private historical and educational organizations, institutions of higher learning and state-sponsored history and heritage agencies. Records indicate Marshall also taught in Delaware, areas of the American South, and in the mid 1870s returned to Maryland to teach in Howard County.
Within the philanthropic and educational networks of "colored" primary schools preparing students to attend institutions of higher learning within the regions of Baltimore, Philadelphia and Washington City, Principal Marshall, Rev. Monroe and Frederick Douglass are all closely connected.
For those that care to know, learn, and discuss the history with a fidelity to the integrity of the community give yourselves a clap or two.
This post is in recognition of Honorable Mrs. Merrion, formerly of Rosa Parks Middle School, and all legendary teachers who have ever taught. Your students do not forget.
---
Bibliographic Note:
Image of Principal Marshall, page 50 of Schooling the Freed People: Teaching, Learning, and the Struggle for Black Freedom, 1861-1876 (UNC Press, 2010)
---
Below are two images indicating Principal Marshall with the Freedmen's Bureau School in Elk Ridge Landing in Howard County, Maryland.
---
"Moving forward there remains an incredible opportunity to mobilize existing church and faith-based networks and communities within the District and Baltimore metropolitan regions to share a more complete story of Frederick Douglass and the Black Church."
---
Ed Note: Many years ago we had dinner with Mr. Fred Morsell and Frank Faragasso discussing the lost history of Douglass. We thank Mr. Morsell for his contributions to the field of Douglass Studies and sustained advocacy.