Archive for December, 2021
---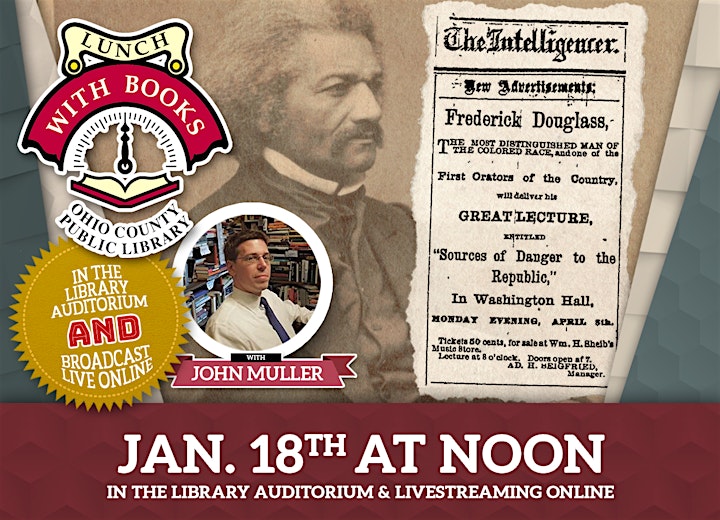 Internationally known, in life and afterlife, on both sides of the Atlantic Ocean as an orator, abolitionist, editor, suffragist and American reformist, the history and placement of Frederick Douglass in the field of Appalachian Studies has not been considered and recognized until now.
Following the Civil War, Frederick Douglass made notable visits to Wheeling, West Virginia in 1867 and 1884, speaking first at the original Washington Hall at the bequest of a literary society and nearly two decades later at the Opera House, which still stands today at 12th and Market Street in downtown Wheeling, as part of an Emancipation celebration.
The Lost History of Frederick Douglass in Wheeling, West Virginia will focus on the relationship and associations Douglass had with several notable Wheeling citizens, including newspaper publisher, political insider and a leader of West Virginia's statehood movement Archibald W. Campbell and Dr. Boswell Henson Stillyard, the first Black member of Wheeling's City Council. In February 2021 Dr. Stillyard was profiled by Archiving Wheeling in an article researched by Local History Specialist at the Ohio County Public Library Erin Rothenbuehler
The sojourns of Frederick Douglass in Wheeling are part of a larger portfolio of more than a half-dozen visits he made across West Virginia from the Eastern Panhandle to the Northern Panhandle to the Kanawha River Valley. Traveling extensively on local railroads, Douglass remained connected to the mountain state as a trustee of Storer College, West Virginia's first Historically Black College & University, and as an associate of notable West Virginians Governor Arthur I. Boreman, West Virginia's first Black attorney J. R. Clifford and others.
The Lost History of Frederick Douglass in Wheeling, West Virginia will be presented for the first time at the Ohio County Public Library in Wheeling. The livestreamed in-person event, followed by a Q&A, will include maps, prints, letters, newspapers, photographs, ephemera and more from local, regional and national collections and archives.
—
*Presenter*
John Muller, author of Frederick Douglass in Washington, D.C.: The Lion of Anacostia (2012) and Mark Twain in Washington, D.C.: The Adventures of a Capital Correspondent (2013), has presented widely throughout the DC-Baltimore metropolitan area at venues including the Library of Congress, Politics and Prose Bookstore, Newseum, American Library in Paris, Enoch Pratt Library, DC Public Library, Frederick Douglass National Historic Site and local universities. Muller is a frequent guest on Washington, D.C. radio stations and has been cited by the Washington Post, Washington City Paper, Cumberland Times-News and other publications for his local history research and subject matter expertise. He has been featured on C-SPAN's BookTV and C-SPAN's American History TV, broadcast airwaves of NBC4 (Washington), WDVM (Hagerstown) and radio stations WPFW (DC), WAMU (DC), WYPR (Baltimore), WEAA (Baltimore) and Delmarva Public Radio (Eastern Shore).
For the past decade Muller has contributed hundreds of articles to local and national print and online news sources, including the Washington Informer. In 2019 Muller presented on the history of Frederick Douglass throughout Western Maryland, including the Washington County Free Library and Frostburg State University.
In December 2021 Muller co-presented The Lost History of Frederick Douglass in the Mountain State at WVU Potomac State College in Keyser, West Virginia. The presentation was featured in the Cumberland Times-News and on the airwaves of West Virginia Public Broadcasting.
Muller, along with Justin McNeil, is a co-founder of Lost History Associates. Muller and McNeil are at work on forthcoming publications on Frederick Douglass in several specific regions in the Mid-Atlantic area.
For more information on Lost History Associates, visit www.losthistoryusa.com
---
This presentation is being offered as part of the Ohio County Public Library's Lunch with Books program. Lunch with Books is the library's flagship program for adult patrons. Bring a bag lunch and enjoy presentations by authors, poets, historians, musicians, and a variety of other people. Complimentary beverages are provided.
Though the Library is now fully opened and our in-person programming has returned, we will continue to offer our live streamed broadcasts for those who are unable to attend our programs at the Library.
For more information about the Ohio County Public Library, visit:
https://www.ohiocountylibrary.org/
For more information about the Lunch with Books program, visit: https://www.ohiocountylibrary.org/programs/lunch-with-books/5369
For directions to the Ohio County Public Library, visit: https://www.ohiocountylibrary.org/contact/finding-ohio-county-public-library/89
Eventbrite RSVP (not required):