Archive for February, 2020
---
Enjoy an afternoon of history and discussion at the locally respected and internationally known Sankofa Video Books & Café on Georgia Avenue, across the street from Howard University in Washington, D.C.
Dual presentations will be offered by author and historians John Muller & Frantz Derenoncourt, Jr. discussing Dr. Frederick Douglass as a student of Haitian history, U.S. Minister to Haiti and the impact of the Haitian Revolution on Douglass, in which he drew inspiration and invoked throughout his life on the public stage.
Travel from pre-industrial Baltimore City, where a young Frederick Bailey first learned of François-Dominique Toussaint Louverture from Afro-Haitian refugees on their way to school in his neighborhood, to the appointment of Frederick Douglass by President Grant to the Santo Domingo Commission to Paris, where Douglass developed friendships with Afro-Haitians, to the service of Minister Douglass to Haiti during the administrations of Haitian President Florvil Hyppolite and American President Benjamin Harrison to the 1893 World's Exposition in Chicago where Douglass presided at the Haitian Pavilion.
— Seating will be available on a first come basis —
---
**FEATURED PRESENTERS**
Frantz Derenoncourt Jr. is the author of several books on Haitian history and the owner of Thorbred Books. Derenoncourt lectures widely to schools, community groups and professional organizations.
John Muller is the author of Frederick Douglass in Washington, D.C.: The Lion of Anacostia (2012) and is currently at work on a book on Douglass and the Eastern Shore of Maryland.
---
For more information on Sankofa visit:
https://www.events.sankofa.com/
---
Sankofa is located across the street from the Howard Business School, minutes away from the historic U Street and Shaw neighborhoods.
Metrorai: Petworth, U Street, Columbia Heights and Shaw-Howard are located approximately .8 miles away.
Buses: 70 & 79 offer convenient stops nearby.
---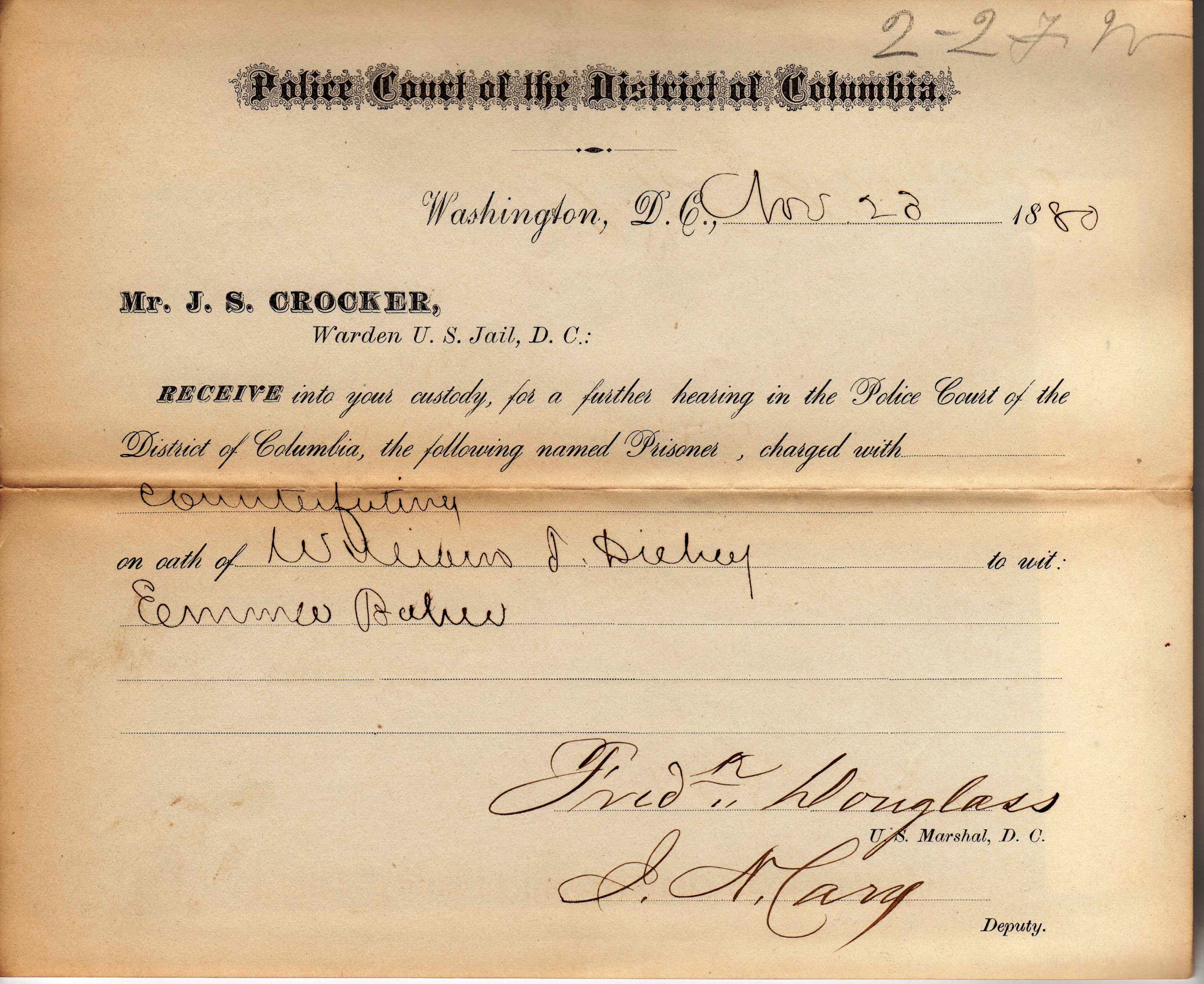 As the state of Maryland continues the work of its Lynching Truth and Reconciliation Commission with plans for its first formal public hearings underway we must insist a recognition and discussion of "Frederick Douglass and Lynching" is part of the ecosystem.
Foremost, "The Lessons of the Hour" (1894) was the last major pamphlet of Dr. Douglass during his half-century public career. Throughout the 1890s Douglass advocated within local communities and at the highest levels of the government for anti-lynching laws and prosecution of extra-judicial killings. In concert with Maryland activists Douglass pressed this issue and claims.
Secondly, while serving as Marshal of the District of Columbia, Frederick Douglass played a significant role in averting a lynch mob in Washington City in February 1880.
Earlier that month Douglass spoke in Salisbury in Wicomico County on the Lower Eastern Shore.
In 1931 Matthew Williams was murdered by a lynch mob in that same space. Two years later Maryland would suffer its last murder by lynch mob with George Armwood's death in Princess Anne in 1933.
It has been our experience in the past year or so surveying meetings of the existing Maryland Lynching Truth & Reconciliation Commission, as well the Maryland Lynching Memorial Project, that Douglass and the issue of lynching is not a thought, afterthought nor warranting a mention.
Organizations and folks who are either raising funds off this history and/or who are supported with funds from the public treasury and/or who are on the public time clock in their capacity as commissioners have a greater responsibility than to be careless with citations, scholastically thoughtless and in general ahistorical.
JM
---
Muller, John. "Lynching Averted in Washington City,"  Ghosts of DC. November 9, 2012 
---
Before offering dedicatory remarks at historic Mt. Moriah A.M.E. Church in Annapolis in the mid-1870s, the Honorable Frederick Douglass first witnessed the Maryland State House punctuating the capital city's skyline as the adolescent enslaved Frederick Bailey on his way to Baltimore from the Eastern Shore.
Upon entering the State House generations later Douglass recited the farewell address Gen. George Washington had delivered nearly a century before, in 1783, upon resigning his military commission to the Confederation Congress in Annapolis.
Learn the lost and unknown history of Frederick Douglass and Maryland's governors, leaders of the African Methodist Episcopal Church from Bishop Wayman to Bishop Tanner who impacted the state capital before, during and after the Civil War to students from Annapolis who attended Howard University, where Douglass served the board of trustees, to graduates of the Unites States Naval Academy who saw Douglass off to Haiti where he served the United States State Department.
Tour will be led by the foremost international scholar on the connections, associations, relationships and lost history of Dr. Frederick (Bailey) Douglass in the state of Maryland from Frostburg in Western Maryland's Allegany County to Salisbury on the Lower Shore's Wicomico County.
---
Invitations will be respectfully extended to Maryland Governor Larry Hogan, Maryland Lt. Governor Boyd Rutherford, Maryland delegation to the United States Senate and Unites States House of Representatives, every delegate of the Maryland General Assembly, every member of the State Senate, director and staff of the Banneker-Douglass Museum, mayor of Annapolis and city council, as well as directors and staff of several state and county agencies supported by the public treasury to communicate, preserve and promote local history and tourism.
—
Tour Stars:
Tour Ends:
---
$15 – General Admission
$10 – Midshipmen, veterans, law enforcement 
---
** Special Note: Tour on February 15, 2020 will precede the public unveiling of statues of Harriet Tubman and Frederick Douglass inside the State House. A full program of events will occur in and around Annapolis from 10:00 AM – 3:00 PM.
More information: msa.maryland.gov/msa/homepage/html/upcomingevents.html
The walking tour has been organized independently due the urgency and necessity to return the community history of Frederick Douglass to the community of Annapolis and communities across the state.
---
John Muller, author of Frederick Douglass in Washington, D.C.: The Lion of Anacostia (2012) and Mark Twain in Washington, D.C.: The Adventures of a Capital Correspondent (2013) is currently at work on a book about the lost history of Frederick Douglass on Maryland's Eastern Shore.
Muller has presented widely throughout the DC-Baltimore metropolitan area at venues including the Library of Congress, Newseum, Politics and Prose, American Library in Paris and local universities. As well, in the past two years he has presented on the "Lost History" of Frederick Douglass in Baltimore, Cambridge, Centreville, Cumberland, Denton, Easton, Frederick, Frostburg, Hagerstown, Salisbury, St. Michaels and other local cities and towns throughout the state of Maryland.
Muller has been featured on C-SPAN's BookTV and C-SPAN's American History TV, as well as in the pages of the Star Democrat and the airwaves of WDVM (Hagerstown) NBC4 (Washington), WPFW, WAMU, WYPR and Delmarva Public Radio.