Archive for March 25th, 2019
Coming up out an African Methodist church erected in a Fell's Point alley following American Independence Pharaoh Frederick Augustus Washington Bailey Douglass emerged within ranks of the most consequential religious leaders of America's antebellum, Civil War and Reconstruction eras.
Among the most respected of America's African-American reverends and educators who travelled the world establishing outposts of the church and their compensatory schools Pharaoh Douglass was always offered opportunity to teach Sunday school and Bible study, a tradition he maintained from his days in St. Michaels in the 1830s until his last day on earth.
Throughout his life Rev. Dr. Pharoah Douglass ran and prayed from country camp revivals to town and city street corners to the lecture stages and halls of universities among white and black faith leaders within circles of African Methodists, Methodist Episcopalians, Baptists, Protestants, Congregationalists, Unitarian Universalists, Quakers, Hebrews and Mohammedans.
Rev. Dr. Pharoah Douglass aided men of God building institutions that maintain today as men of God enlisted the aid of Rev. Dr. Pharoah Douglass building, developing, and guarding institutions furthering faith and education.
Along with the early founders of Howard University, in which Dr. Rev. Pharaoh Douglass served as a board member from 1871 until his death, men of God who aided in founding Morgan State University in Baltimore City and American University in Washington, D.C. ran with Rev. Dr. Pharoah Douglass.
In May 1894 Bishop John Fletcher Hurst and Reverend Lyttleton Morgan joined arms in brotherly remembrance and honor with Dr. Douglass, Bishop Alexander Wayman, Bishop Henry McNeal Turner, Rev. Dr. John W. E. Bowen and other men of God to remember the late Bishop Daniel Alexander Payne.
Despite numerous accolades and laudatory reviews, David Blight's deeply flawed Prophet of Freedom fails to place Douglass within this vast network of men of God.
Therefore Blight's singular reference to Bishop Daniel Alexander Payne in Prophet of Freedom is blasphemous.
---
THE LATE BISHOP PAYNE.
A Monument in His Honor Unveiled at Baltimore.
The monument to the memory of the late Bishop Daniel A. Payne, D. D., LL. D., who was the senior bishop of the African Methodist Episcopal Church, was unveiled yesterday afternoon at Laurel Cemetery, in the northeastern suburbs of Baltimore, in the presence of a large number of colored people.
The exercises included addresses by Rev. Dr. J. H. A. Johnson of Ellicott City, Frederick Douglass and Rev. Dr. W. B. Derrick of New York, and prayer by Rev. Dr. L. F. Morgan, prior to the unveiling by Bishop H. M. Turner, D. D., of Georgia.
Rev. John Hurt read the names of the contributors to the monument fund and Rev. J. G. Morris, D. D., closed the services by pronouncing the benediction. On the stand, besides the above, were Bishop W. J. Gaines, D. D., Bishop J. A. Hunter of Kansas, Bishop M. B. Salters of South Carolina, Bishop A. W. Wayman, Rev. J. M. Bowen and others.
---
SOURCE:
Evening Star, 22 May, 1894, p. 9.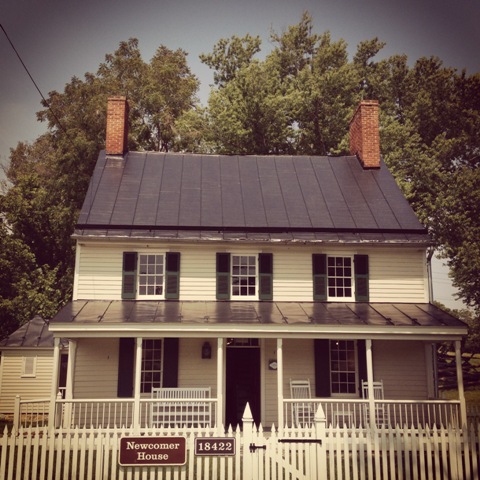 Frederick Douglass rose from the depths of slavery on Maryland's Eastern Shore to travel three continents and counsel a half-dozen Presidents.
You may think you know his story but did you know he visited Hagerstown?!
In 1879 Douglass took a train to "Hub City" where he delivered an address to benefit Bethel African Methodist Episcopal Church.
Future United States Congressman and United States Senator, Hagerstonian Louis E. McComas introduced Douglass before he spoke at the courthouse on Washington Street. Hear historian and author John Muller share never before published details of Dr. Frederick Douglass' visit to Hagerstown walking the community and lodging in the historic Washington House.
Each presentation will be a half-hour history discussion.
---
LOCATION:
18422 Shepherdstown Pike
Keedysville, MD 21756.
The Newcomer House is located approximately ½ mile east of Sharpsburg along Maryland Route 34 (Shepherdstown Pike) on the western edge of the Antietam Creek.
301-432-640
Governor
Larry Hogan
Lt. Governor
Boyd K. Rutherford
Maryland Commission on African American History & Culture
Chair
Dale Glenwood Green
Vice Chair
Tamara England Wilson
Director
Chanel Compton
---
Notice of Annual Meeting
Morgan State University
Murphy Fine Arts Center
Recital Hall
2201 Argonne Drive
Baltimore, Maryland 21251
Monday, April 1, 2019
11 a.m.
Questions?
Please contact us by
phone (410) 216-6181 or by
email MCAAHC@gmail.com
The Maryland Commission on African American History and Culture (MCAAHC) is committed to discovering, documenting, preserving, collecting, and promoting Maryland's African American heritage. The Commission also provides technical assistance to institutions and groups with similar objectives. Through the accomplishment of this mission, the MCAAHC seeks to educate Maryland citizens and its visitors about the significance and impact of the African American experience in Maryland. The MCAAHC is a unit of the Governor's Office of Community Initiatives.
STAY CONNECTED:
Like us on Facebook
Maryland Commission on African American History & Culture
C/O Banneker-Douglass Museum
84 Franklin Street
Annapolis, MD 21401