Archive for June 17th, 2018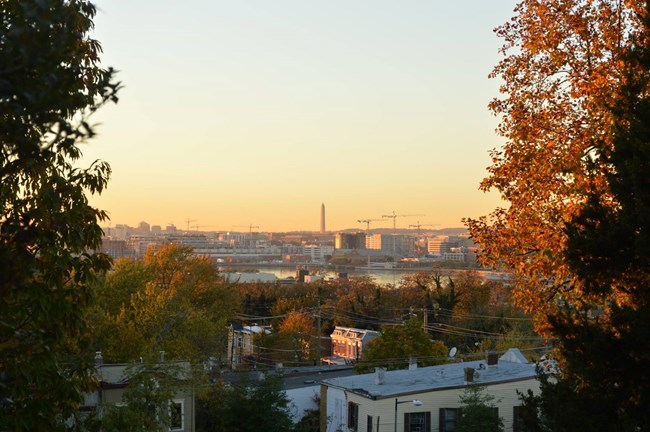 Join the National Park Service on July 4, 2018, for a day of reflection and commemoration as we honor history and celebrate 200 years of the life and legacy of Frederick Douglass, the "Lion of Anacostia."
Celebrate Independence Day starting at 9 a.m. with special activities at Douglass Cedar Hill estate in historic Anacostia, Washington D.C. Bring your blankets and a picnic to view the fireworks on the National Mall from Cedar Hill at 9:09 p.m.
All activities are FREE and open to the public.
TEXT JULY4DC TO 888-777 FOR ALERTS AND UPDATES
Plan Your Visit
9 a.m. Join us for ranger-led house tours given at 9 a.m., 10 a.m. and 10:15 a.m.
11 a.m. See actor Darius Wallace deliver Douglass famous speech "What to the Slave is the Fourth of July?" on the front porch of the house.
12 p.m. – 6 p.m. Journey on a self guided tour of the house with rangers in different rooms to answer questions. Tours will be on the first floor only.
1 p.m. – 5 p.m. Become a bicentennial Junior Ranger and earn a limited edition badge! Enjoy activities for children and families on the lawn. Croquet, rangers unrolling a replica of the 1877 American flag (1877 was the year Douglass moved to Cedar Hill), storytelling, and living history actors portraying Douglass and his family.
7 p.m. See an encore performance from actor Darius Wallace as he delivers Douglass's "What to the Slave is the Fourth of July?" speech on the front porch of the house.
8 p.m. – 9 p.m. Enjoy a Fourth of July themed full orchestra concert by D.C. Strings on the front porch of Douglass's Cedar Hill home. Listen to music as you settle in to watch the fireworks.
9:09 p.m. Witness a grand view of the fireworks on the National Mall from Cedar Hill, just like Douglass would have. Enjoy music from D.C. Strings during the fireworks show.
Getting There
Parking: Street parking will be the only available parking for this event. The site is located in a residential neighborhood, parking will be difficult to find.
Public Transportation:
If taking a bus, get on the B2 to "Mt. Rainier" or "Bladensburg Rd., V St. NE," or get on the V2 to "Minnesota Ave" or "Capitol Heights Station." There is a bus stop directly in front of the site at the corner of W and 14th Streets.

The B2 and V2 buses service the corner of W and 14th Streets, directly in front of the site. The 90, 93, A42, A46, A48, P1, P2, and P6 all drop off within two blocks of the site.

Use the Green Line and get off at Anacostia Station. When disembarking the train, follow signs to exit the station on the "Howard Road" and "Buses" side. It is approximately 3/4 miles from the station to the site.

If walking, take a right on Howard Road (walk 1 block), take a left on Martin Luther King, Jr. Avenue (walk 3 blocks), and take a right on W Street (walk 4 blocks to the site's visitor center).

Visit WMATA for fares and route details.
Prohibited Items and Activities
All coolers, backpacks, packages, and persons may be subject to inspection.
No grills, alcohol, glass containers, or personal fireworks are permitted on National Park Service property.
Launching, landing or operating unmanned or remote controlled aircraft on National Park Service property is strictly prohibited.
Personal tents that block other visitors' views and tents that require stakes are prohibited.
Possession of firearms in national parks is prohibited, governed by federal as well as local law.
Last weekend in Rochester, New York on the ground once the homestead of the Anna & Frederick Douglass family indigenous Douglassonian and polymath Shawn Dunwoody, with helping hands from local students and community volunteers, created the most distinctive and modern Frederick Douglass murals in the known world.
Deviating from traditional form and fashion, Dunwoody has enlivened Dr. Douglass and brought him to life anew with two works unlike any comparable murals.
While in Rochester to connect with family and participate in ceremonies Tarence Bailey visited the 900 block of South Avenue in the Highland Park neighborhood of Rochester. It was here the former Douglass homestead stood.
Now the site serves as the campus of the Frederick Douglass Community Library, School No. 12 and the Frederick Douglass Recreation Center
I am familiar with murals in my areas and have studied Prof. Zoe Trodd's expansive documentation of Douglass murals internationally. Dunwoody's works are some of my personal favorites and will be included in the Frederick Douglass Mural exhibit planned for this fall.
To be continued …